Start A Vending Machine Business
Start A Vending Machine Business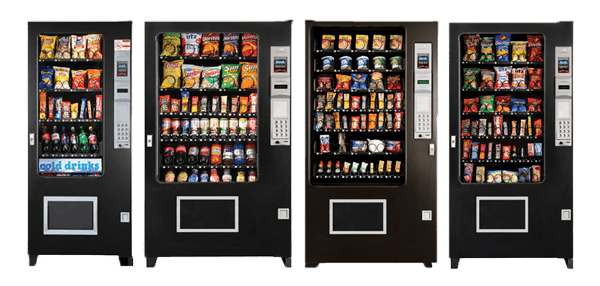 A vending machine business places vending machines in locations where people are likely to want the items these machines sell. According to IBISWorld, the vending machine industry is a $7 billion industry. It's a large industry that's not dominated by any one or two companies, which provides a great opportunity for new businesses.
Who is this business right for?
Anyone who enjoys working on their own and is mechanically inclined may like running a vending machine business. Business owners are frequently by themselves when filling and servicing machines, so self-motivation is important. A mechanical inclination is helpful when machines need repairs.
What happens during a typical day at a vending machine business?
A typical day at a vending machine business involves four primary activities:
ordering supplies
receiving supplies
filling machines with supplies
servicing broken-down machines
The cash in machines is collected when the machines are filled.
What is the target market?
Vending machines appeal to a wide swath of people. Everyone gets hungry and thirsty (or wants a toy) at some time.
How does a vending machine business make money?
A vending machine business makes money by selling items in the business' vending machines to customers. Vending machines may sell snacks, soft drinks, hot drinks, sandwiches, hygiene products, candles, toys, and other products.
What is the growth potential for a vending machine business?
The volume of a vending machine business can be high. It's not uncommon for a business to operate 25 to 50 machines, and some businesses have many more. Kris Gundersen, for instance, operated a vending machine business that had 200 machines.
As vending machine businesses grow, they usually remain within a single city or region. Businesses that operate high-profit machines might have machines placed throughout a 50-mile radius. Those that operate lower-profit machines often operate within smaller radii. The distance between machines is kept short to minimize drive time and fuel costs when going between machines.
What are some skills and experiences that will help you build a successful vending machine business?
Vending machine business owners should have a basic understanding of business practices and a knowledge of how to repair vending machines.
Business owners who don't have experience running a business may want to take a business course through a community college or online. Coursera, Open Culture and Harvard Business School offer business courses.
Business owners who don't have repair knowledge should take a course on repairing vending machines. The National Automatic Merchandising Association (NAMA) offers a training program that leads to certification as a journeyman technician.
In addition to these resources, there are a number of books on starting a vending machine business. Some popular titles include The Truth About Vending and Vending Business. These and similar books provide industry-specific advice that won't be found in general business classes.
What are the costs involved in opening a vending machine business?
The startup costs for a vending business are manageable. It's possible to start a business for a few thousand dollars, and a small business might be started with less than $1,000. Business owners must purchase a vehicle, equipment (vending machines), and supplies (items machines sell).
To save on vehicle expenses, many business owners start out using their own vehicle. As a business grows, a larger vehicle that can hold more supplies may be needed. Such a vehicle can be purchased once the business brings in sufficient revenue.
Vending machines vary in cost from a few hundred dollars to several thousand. VendSoft reports that bulk machines, which sell candy and gumballs, cost between $150 and $450 each. Snack and soda machines run from $1,500 to $8,500.
To keep vending machine costs low, business owners can purchase used or refurbished machines. This is an especially good option for business owners who have learned how to repair machines, for a new machine's warranty is less important to business owners who can make their own repairs.
With some machines, business owners can enter into contracts with suppliers to get free machines. Sometimes suppliers will agree to furnish and maintain a machine as long as a vending business agrees to purchase supplies from the supplier.
Supplies themselves don't cost a lot because they're purchased wholesale. For example, gumballs might cost between 2 and 5 cents each wholesale. Snacks and sodas cost more, but they're still very affordable.
What are the steps to start a vending machine business?
Once you're ready to start your vending machine business, follow these steps to ensure that your business is legally compliant and avoid wasting time and money as your business grows:
Plan your business. A clear plan is essential for success as an entrepreneur. A few important topics to consider are your initial costs, your target market, and how long it will take you to break even.
Form a legal entity. Establishing a legal business entity prevents you from being personally liable if your vending machine business is sued.
Register for taxes. You will need to register for a variety of state and federal taxes before you can open for business.
Open a business bank account. A dedicated checking account for your vending machine business keeps your finances organized and makes your business appear more professional to your customers.
Set up business accounting. Recording your various expenses and sources of income is critical to understanding the financial performance of your business. Keeping accurate and detailed accounts also greatly simplifies your annual tax filing.
Obtain necessary permits and licenses. Failure to acquire necessary permits and licenses can result in hefty fines, or even cause your business to be shut down.
Get business insurance. Insurance is highly recommended for all business owners. If you hire employees, workers compensation insurance may be a legal requirement in your state.
Define your brand. Your brand is what your company stands for, as well as how your business is perceived by the public. A strong brand will help your business stand out from competitors.
Establish a web presence. A business website allows customers to learn more about your company and the products or services you offer. You can also use social media to attract new clients or customers.
Sample Block Quote
Praesent vestibulum congue tellus at fringilla. Curabitur vitae semper sem, eu convallis est. Cras felis nunc commodo loremous convallis vitae interdum non nisl. Maecenas ac est sit amet augue pharetra convallis nec danos.
Sample Paragraph Text
Praesent vestibulum congue tellus at fringilla. Curabitur vitae semper sem, eu convallis est. Cras felis nunc commodo eu convallis vitae interdum non nisl. Maecenas ac est sit amet augue pharetra convallis nec danos dui.
Cras suscipit quam et turpis eleifend vitae malesuada magna congue. Damus id ullamcorper neque. Sed vitae mi a mi pretium aliquet ac sed elitos. Pellentesque nulla eros accumsan quis justo at tincidunt lobortis denimes loremous. Suspendisse vestibulum lectus in lectus volutpat, ut dapibus purus pulvinar. Vestibulum sit amet auctor ipsum.